The MMI explained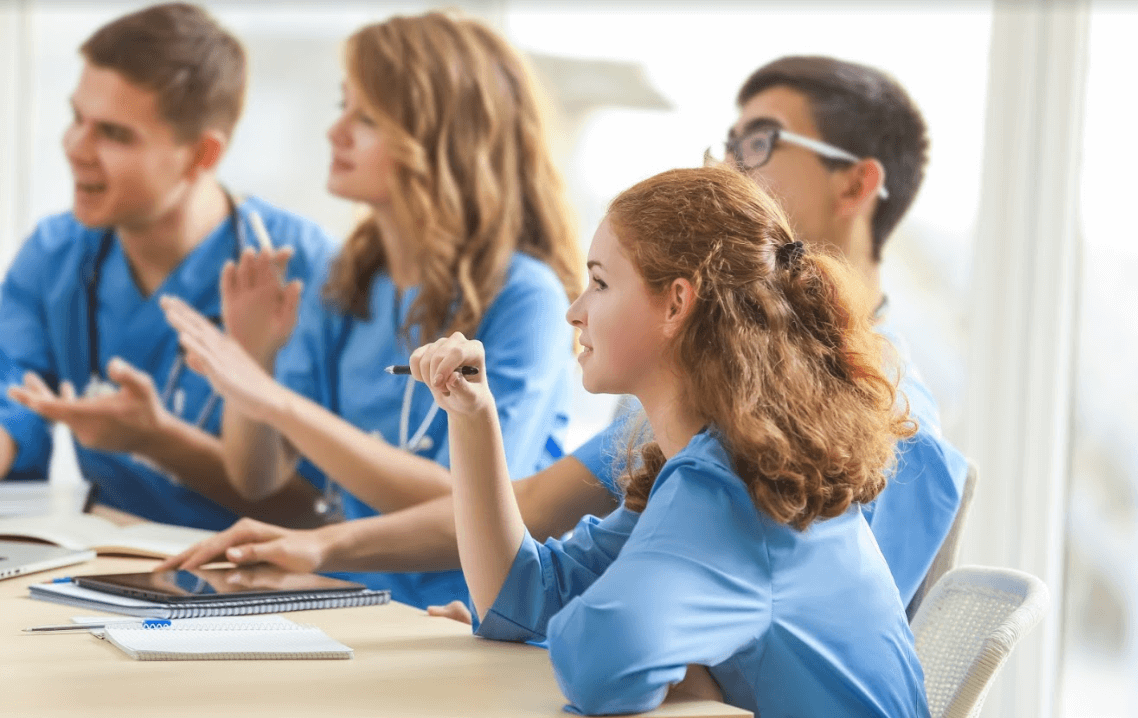 Image Source: Career Employer
The MMI assesses you on a range of skills and aptitudes with a mix of interview stations and activity-based stations.
At each station, applicants are presented with a specific question, task or scenario and they are judged on their answers, reactions and skills.
There's a time limit for each interview station, which ranges from five to 10 minutes, depending on the university.
Usually, two of those minutes are allocated to reading time, where you will be able to read the station's scenario. The remaining six to eight minutes are dedicated to interview time and when time's up, you are required to move on.
While the MMI does look holistically at your potential to be a medical professional, it is important to remember that there are also key traits that the stations assess you on.
These include:
Communication
Quality of argument
Critical thinking
Creativity
Social responsibility
Cultural safety
Awareness of health issues
Moral reasoning
Self-awareness
Empathy
Conflict resolution
Career choice
Teamwork
Self-care
Don't worry, you won't be assessed on all of these traits at once. Every station will have its own set of attributes that the interviewer is looking out for.
For example, interviewers at the station that focuses on your interest in medicine will look for self-awareness, critical thinking, and an insight into your choice of profession.
MMI Practice Questions
Now before we get into MMI prep, let's take a look at the interview subject, which fall into five categories:
1. Motivation to Study Medicine
Why do you want to be a doctor?
Bet you've heard that one before! Medicine is definitely not for the fainthearted (or squeamish!).
So what is it that draws you to this profession? What need does it fulfil? What do you want to achieve in the medical field? Try explaining that in five minutes while sounding genuine, informed, intelligent, and motivated!
You also need to be prepared to back up your statements with follow up questions that will gauge how much you've actually thought about this major life decision.
Examples:
Why do you want to do medicine? Why not another profession that involves caring for others or is as intellectually challenging?
What impact do you hope to make in the field of medicine?
What steps have you taken to try to determine whether you really want to become a doctor?
2. Behavioural Questions
Leadership and teamwork are crucial elements of practice in the medical profession.
As a doctor, you'll play a key leadership role that involves problem solving, decision making, and coordinating the efforts of others.
You must also be committed to continuous growth and learning to ensure you're delivering the highest standard of care to your patients, and that's where self-awareness comes in.
The interviewers are interested in your ability to demonstrate your potential to be a leader and your commitment to personal development.
They'll probably also ask you about your weaknesses, so it's important to be able to reflect on your experiences with maturity and critical thinking to identify where you might need some improvement.
Examples:
Thinking of your work experience, can you tell me about a difficult situation you have dealt with and what you learned from it?
What attributes are necessary in a good doctor? Which do you have, and which do you need to develop further?
Who are the important members of a multidisciplinary healthcare team? Why?
3. Ethical Scenarios
It's inevitable that you'll face some moral grey areas as a doctor, and when you do, you'll likely have to make a tough decision and deal with the consequences – good or bad.
A key skill is the ability to form a strong opinion before making a measured decision – and most universities will have a station or two to test just that!
These stations present you with an ethical scenario and ask you what you would do in that situation. The scenario may specify that you are a doctor, a medical student, or just yourself, and the situation can be as simple as a friend in need or perhaps a doctor/patient interaction.
Examples:
Would you perform abortions as a doctor? Do you think it's right?
A man has been diagnosed with HIV. He is currently having unprotected sex with his partner and refuses to tell her he is HIV positive. Do you tell the man's partner of his status?
You have one dialysis machine to share between three patients. One is a 20 year old drug addict who has just overdosed, one is a 45 year old diabetic mother of three with end stage kidney failure and the third is a fit and healthy 80 year old man who has a longstanding metabolic disorder. Who gets the machine?
4. Cultural Awareness/Health Knowledge
Being culturally sensitive is of utmost importance to doctors. These stations test your understanding of the significance of ethnicity in a health context.
In Australia, questions will focus on Indigenous or rural health, while at The University of Auckland, at least one question will have an ethnicity and/or Maori focus.
Assessors are looking to see that you understand the background, cultural practices, and significance of ethnic groups in your country, as well as your ability to empathise.
These stations are also designed to test your understanding of public health issues in Australia or New Zealand.
You're expected to demonstrate insight into the issues and this is impossible without some background knowledge. So get reading and keep up with the news!
Examples:
What does the term "inequalities in health" mean to you personally?
What would you do differently when consulting a Maori patient compared to a European patient? (NZ)
You are a medical student in the hospital elevator with your supervisor. Your supervisor, who is grading your attachment and is the head of General Medicine in the hospital, makes a racist comment about an Aboriginal patient in the presence of other members of the public in the elevator. However, there are no Aboriginal people in the elevator. What do you do? (AU)
5. Practical Tasks/Acting
Some universities will have a station dedicated to practical exercises.
You're not a doctor yet, so you won't be asked to act out medical diagnoses or treatment of medical problems. Instead, you will be asked to carry out somewhat trivial practical tasks which are used to assess skills such as verbal communication, manual dexterity, problem solving, and most of all… patience!
Often this will involve giving instructions to the interviewers and having them complete a task, such as origami folding, rope tying, or arranging blocks.
You won't necessarily be judged on the outcome. They just want to see how your mind works and how you reach solutions.
This might sound silly, but if you come across one of these stations unexpectedly it can be seriously intimidating!
Examples:
Follow these step by step instructions to make origami.
Without using your hands, explain how to tie shoelaces.
Instruct a person who is holding a clamper to pick up a number of small blocks and place them onto a particular point of an A4 card. The card has other blocks on it and knocking them over would lose you points. The person you are instructing on is very particular to your instructions and would take the instructions to the extremes. How would you navigate through such a delicate task?